Forget yoga, meditation and woosah to release pent up frustration because we can now pick up an axe at Axe Factor, visualise our target and unleash our fury one throw at a time. Admittedly, though, there is a certain knack to successful axe-throwing. You need to impart just the right amount of spin so that the blade strikes the bullseye first, which does require a fair bit of trial and error.
Fortunately, the team at the Axe Factor are no slouches when it comes to hurling hatchets and they'll be on hand to make sure you make the most of your axe-throwing session in Singapore.
Already feeling the need to throw axes? Pick up tickets here.
They've got real axeperience nailing their targets and they'll be able to help you spin the primaeval tool the right way. Soon, you too will be hitting your target 100% of the time—hopefully.
Each axe-throwing session begins with a brief safety induction and training on how to best throw an axe before you get to have a go yourself. After much experimentation, you'll hopefully start to get the hang of things and throwing axes like a true Viking.
Soon you'll be relieving stress and thwacking the target on your way to becoming the most skilful axe-wielder of all. Throw as many axes as you can in one hour and you'll only be 9,999 hours short of being a professional axe-pert.
Practice does make perfect but throwing axes is a decompression session and a really great way to take the stress away.
There are a few things to bear in mind: closed-toed shoes must be worn so don't be turning up in thongs or sandals and you must be 18 or older to take part in this beer n axe throwing session.
Go on, you know you want to release that pent up stress. (Some advice: throwing angrily doesn't help accuracy.)
Sign up for a axe-throwing session below for one or two people.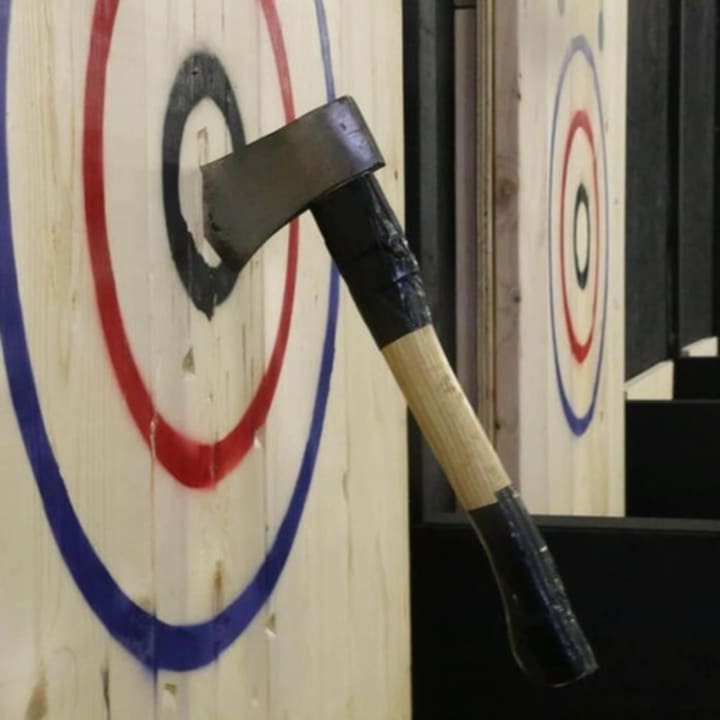 Axe Factor Singapore: A Prehistoric Pastime with a Modern Twist
---