The fictitious Kiran and Rosa meet and fall in love amidst the sights and sounds of Singapore's first public entertainment space—The New World Amusement Park. The young couple go on a whirlwind adventure through the many hip haunts of the historic Jalan Besar neighbourhood and thanks to the New World's End art experience, audiences can join them on their journey through love and time travel back to 1960s Singapore.
From following them down city streets into shop-lit back alleys and an apartment lost in time as well as other intimate spaces, their story comes alive at night just as the city's underbelly comes to life. With headphones on, listeners will be immersed in intimate atmospheres featuring Jalan Besar's working-class roots and its migrant-rich communities.
New World's End will surround you with art, culture and history to showcase Jalan Besar—this is a tour unlike any other you have experienced.
Crafted and created by some of Singapore's best in film, music, theatre and the visual arts, and curated by Oh! Open House—the independent arts organisation showcasing Singapore's stories in unconventional ways—New World's End turns back time and brings to life historical events in a compelling 60-minute walking tour-slash-theatrical journey.
From meeting Kiran and Rosa at the Cabaret where they first see each other, New World's End takes listeners to a film screening, a boxing match and paints rich vignettes of their lives shaped by momentous moments in Singapore's history.
The emotional journey marries art and culture with history, and brings back Jalan Besar as it was before trendy cafés and chic eateries lined its streets—home to those that didn't quite fit in and a place where dreamers could envision new lives for themselves.
Walk the streets of Jalan Besar with New World's End.
The audio-immersive journey through Jalan Besar via headphones takes place on Wednesday, Friday, Saturday and Sunday evenings. Sessions start at 5:30pm, as well as Fever exclusive times later in the evening at 10:00pm
You will be on your own throughout the experience, except for the other people on the street going about their own lives and the few staff facilitating the theatrical sets.
There's no other cultural or historical walking tour in Singapore quite like New World's End, which resurrects the glitz and glamour of the 60s for an immersive theatrical experience.
OH! Open House tells stories through art. Since 2009, they have worked with artists to turn homes and little-used public spaces into pop-up museums and galleries. Not only do they provide alternatives to the traditional, but they also provide opportunities for artists to create site-specific work and challenge audiences to engage critically with the spaces they inhabit.
The New World's End audio-guided art experience raises the bar of what to expect thanks to the brilliant work of writer/director Kaylene Tan, set designer Alan Oei, filmmaker Brian Gothong Tan and dramaturg Janice Koh, as well as performers and artists Moira Loh, Lim Kay Siu, Salif Hardie and NADA.
Although OH! Open House have many art experiences and art walks in Singapore, New World's End is its first permanent exhibition. Celebrate the milestone as many times as you like.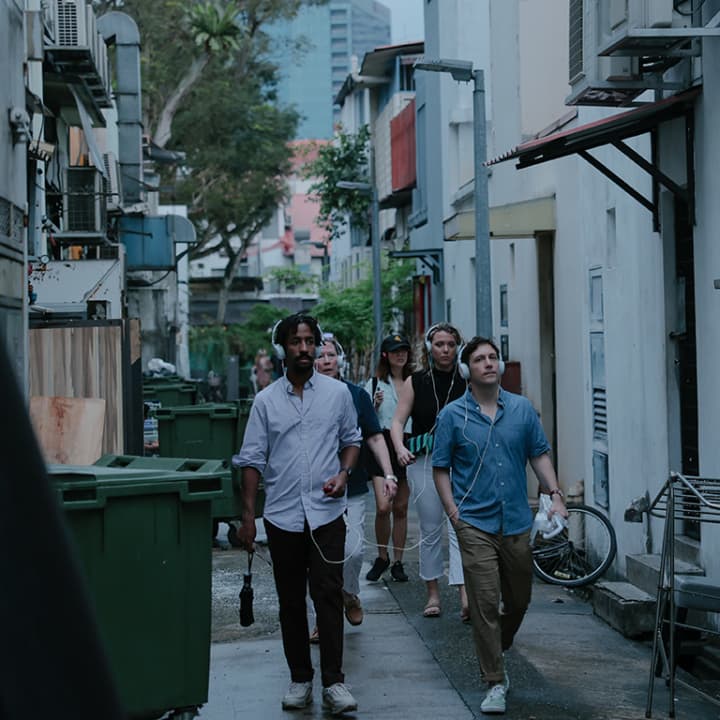 OH! Stories Present New World's End: Immersive Art Experience
---