Lovers of Singapore's
rooftop dining
and other sky-high experiences will adore a new attraction in Sentosa.
SkyHelix Sentosa is the tallest open-air, 360-degree panoramic ride in Singapore. Equally, it's the first carbon-neutral attraction in Sentosa. It involves riders sitting on a gondola, for 12 minutes, that slowly rises 79 metres above sea level on a vertical structure.
Atop the gondola, there is a round bar-like structure, where you'll be treated to a complimentary beverage of choice. Additionally, at night it is lit by LED lights. Certainly, it's perfect for dates because it boasts an enchanting romantic ambience.
The ride is powered by three electrical winches, featuring safety seat belts for attendees and sits 16 people. However, as a result of COVID-19, it will operate at a reduced capacity, taking only eight people on board.
Previously, SkyHelix Sentosa was expected to launch in January. However, it has opened ahead of schedule.
With stunning panoramic views of Sentosa Island, the mainland, iconic Singapore landmarks and much more… you'll be truly satisfied. Definitely, sunset offers the most surreal views. Although, those afraid of heights may want to give this one a miss.
Slots are available between 10am and 8pm daily. Likewise, tickets cost $18 per adult and $15 per child. Unfortunately, only riders taller than 1.05m are permitted on board.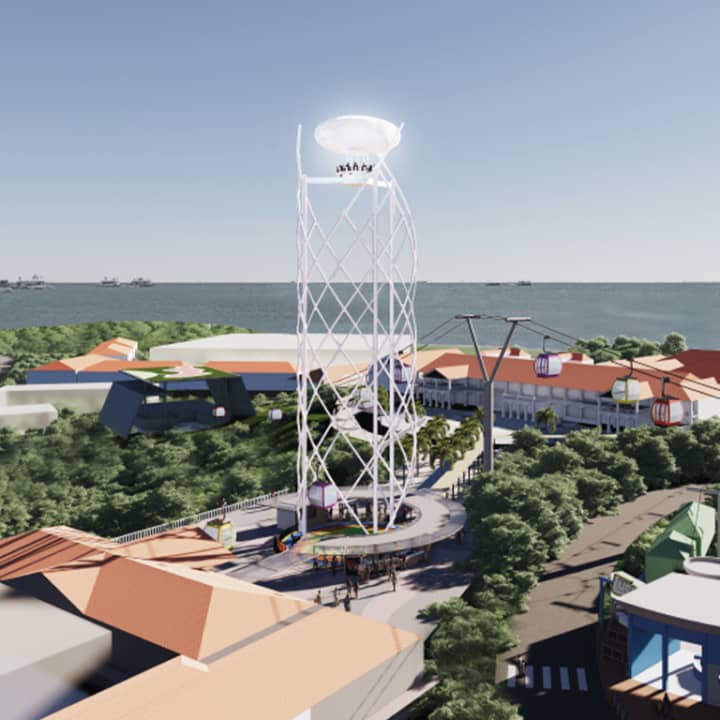 SkyHelix Sentosa: Singapore's Highest Open-Air Panoramic Ride
---