The way we experience art has changed in recent years – and Van Gogh: The Immersive Experience is one iconic example of taking art lovers on a journey through an interactive world of art and technology. The famous global art exhibition opened in March, for the first time in Singapore, but it ends in October after mesmerising more than 240,000 people the past few months, so if you want to check it out, you'll need to book a visit soon. It's your last chance to visit, after all!
The Van Gogh: The Immersive Experience exhibition is situated in Resorts World Sentosa. Forum B1 has been transformed into a mesmerising world, dedicated to Van Gogh, unlike anything you will ever experienced. It features 360-degree digital projections which bring the post-impressionist's paintings to life, and transports guest to another world, through a combination of life-like paintings, dozens of colourful projections, interesting facts and photo opportunities – all complemented by an audio soundtrack.
Incorporating more than 200 of Van Gogh's works at this virtual pop-up museum, Van Gogh: The Immersive Experience will awaken your senses, provoke your thoughts and give people, particularly art lovers, a new perspective.  Here's what to expect from Van Gogh: The Immersive Experience in Singapore.
Arriving at Van Gogh: The Immersive Experience in Singapore
Upon arrival at Forum B1, you'll be introduced to a huge Starry Night-inspired mural, boasting sunflowers, and Van Gogh-themed rabbits wearing sunglasses, at the entrance to the exhibition.
Be greeted by a dark alleyway filled with self-portrait paintings of Van Gogh, on both sides, once you enter through the doorway, and slowly follow the staircase down to the second room – while you wander past a range of oil canvas paintings from the 1880s.
Stop for a picture at the larger-than-life Van Gogh Experience poster, decked out in sunflowers, before entering one of the largest exhibition rooms. It features dozens of portraits, from a wall dedicated to Sunflowers and Starry Night paintings, alongside The Siesta, Wheatfield With Crows, and plenty more of Van Gogh's most famous works…we don't want to give too much away. Listen out for the audio soundtrack which often repeats Van Gogh's most known quotes.
What to watch out for at Van Gogh: The Immersive Experience Singapore
Particularly, we were in awe at a fascinating sculpture of Van Gogh's head, which turns into a colourful collection of his most famous artworks, such as Starry Night. Equally, there's a wall projection of a vase bursting into vibrant blooms, featuring different works, where you'll find visitors happily sitting in chairs in front to feast their eyes on this one-of-a-kind digital projection.
Additionally, you can learn interesting facts about Van Gogh at this part of the exhibition too. For instance, we gained knowledge on why Van Gogh's sisters and brother contributed to his works, and learned about Van Gogh's artistic footprint globally, and featured paintings like the Japanese Prints. Plus, it comes as no surprise that his works have sold at record-breaking numbers – the highest value set at more than $82 million for a depiction of Dr Paul Gachet, who was Van Gogh's doctor in the final months of his life when he descended into a mental state.
Photo opportunities at the Van Gogh Experience
Those who love an IG-worthy selfie will be in their element with a selection of photo opportunities across the exhibition. From wall quotes to quirky video projections and as mentioned, we have the welcoming wall poster near the start, but there are different replicas of his artwork, where you can literally step inside the painting, and explore it. For instance, the iconic Bedroom In Arles is one of the most popular which invites guests to climb onto the bed or pose on a wooden chair.
Next, wander into a small room boasting 360-degree projections of Sunflowers, with a picture-perfect mirror for selfies. But we must urge you to hurry up and take your pictures, or else suffer the consequences of trying to edit people out of the back later!
The real showstopper of Van Gogh in Singapore
And if you think the Sunflowers room is impressive, we also urge you to pick up the pace because hidden behind an unassuming curtain is the showstopper of the whole exhibition. And, it's perhaps the most Instagrammable spot in Singapore!
Be welcomed by a huge dreamy space dotted with cosy chairs and benches when you pull back the curtain. Expect it to be filled with people, sitting in silence, admiring the world around them. Watch as the several of works transform the spectacular room with 360-degree moving projections that bring the painter's most famous works to life. Certainly, it's like nothing you could ever imagine, and this is why you need to experience it for yourself.
Birds take flight in Wheatfield With Crows, while petals drop from trees in Almond Blossom, and the IG-famous Starry Night showcases stars drifting by. Of course, the bright wall projections constantly change to treat visitors to something different every few minutes. We can guarantee you a sense of peace will come over you in this wonderful space.
Activities at Van Gogh: The Immersive Experience
If you can pull yourself away from the showstopper, a little further ahead, visitors can enjoy an epic VR headset experience, next to an interactive art studio, and cinema, offering all the facts of Van Gogh and his career on film – which makes the exhibition even more appealing.
Pay $5 extra to play on the VR headset, which takes participants on a narrated tour through Arles and other sites that inspired Van Gogh's works. Before finishing at the cinema, unleash your inner artist to reproduce Van Gogh paintings at the free art studio. Here, you'll find eager visitors colouring in silence. Once you've finished, you scan your creation to see your masterpiece on the big screen. Plus, you can stick it onto the wall with your signature and have your work admired by other exhibition guests. Perfect for adults and children.
Exiting through a sunflower lane, followed by the gift shop is an excellent way to end the experience as it will entice you to buy a few Van Gogh-themed souvenirs. From themed t-shirts, to bags and games…you'll be spoilt for choice. Otherwise, enjoy a coffee and delicious bakes, and relax in the pop-up café to reflect on everything you just saw.
Overall Van Gogh: The Immersive Experience is a truly unmissable experience in Singapore that combines art and technology to make your jaw drop. Hidden feet away the bustling noise of Universal Studios and other attractions, it's an entertaining and education experience for all ages that lives up to its expectation. Certainly, one of the most exciting things to do in Singapore – so don't miss your chance to visit!
📍 Resorts World Sentosa, 8 Sentosa Gateway, 098269, Singapore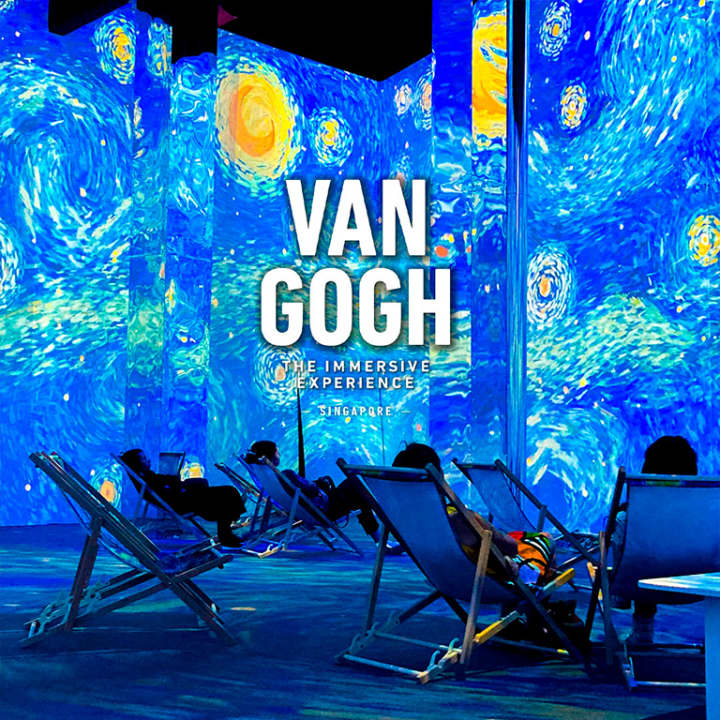 Van Gogh: The Immersive Experience
Photos featured taken by Megan Zara Walsh for Secret Singapore.
---