Art and technology combine at Resorts World Sentosa at Van Gogh: The Immersive Experience, and now due to popular demand dates have been extended throughout July. With 360-degree digital projections and a hyper-realistic VR experience, the post-impressionist paintings envelop audiences to transport them to the world of the Dutch Master artist. Get your tickets today and get ready to experience The Starry Night unlike ever before.
Tickets are now on sale for Van Gogh: The Immersive Experience in Singapore.
Van Gogh: The Immersive Experience
Having toured the world since 2017, the immersive Van Gogh experience by European "edu-tainment" company Exhibition Hub has transformed countless venues into digital canvasses. With several dozen projectors and 1000m² screens, the artwork of the little painter fellow rises up all around and the colour, the impasto brushstrokes and the subjects of his most famous paintings swirl and sway, mesmerising audiences in all of their glory.
A specially-designed soundscape accompanies the cutting-edge video mapping in the immersive room where visitors are encouraged to take a seat and let the combination of art and technology enchant them. The immersive experience is made complete with 'A Day in the Life of an Artist in Arles, France'—a hyper-realistic VR experience that is a journey to the sites that inspired many of van Gogh's artworks.
However, Van Gogh: The Immersive Experience is much more than just state-of-the-art technical wizardry. A beautiful wall of sunflowers welcomes visitors and a life-size recreation of Bedroom in Arles has been a favourite among visitors for selfies. While informative panels pepper the exhibition to offer insight into van Gogh's life, there's even a "studio" to create your own van Gogh-inspired artwork which you can also project on the wall.
Be inspired and get your tickets to experience van Gogh like never before.
Van Gogh: The Immersive Experience is currently open at Resorts World Sentosa, home to Universal Studios and S.E.A. Aquarium. Ticket prices start at S$15 for children and S$24 for adults, a small price to pay to not only travel back in time but to also be ferried to an otherworldly art experience.
Step into Van Gogh: The Immersive Experience and feel the blue of The Starry Night swathe you and its exploding stars light up your dreams just as they did to Vincent van Gogh himself.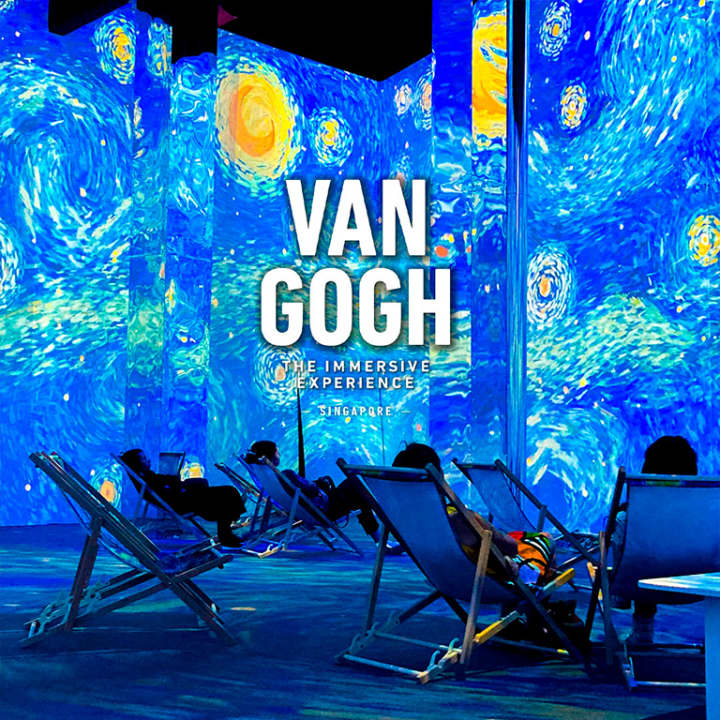 Van Gogh: The Immersive Experience
---